!tiptoe.html!>
Tiptoeing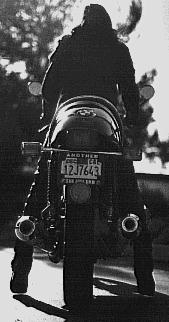 April 1993. This is the bike that taught me to tiptoe: a lumbering 1976 BMW R90S. San Jose BMW kindly loaned it to me for CLASS since I had just crashed my R65 and it was too close to the CLASS date to cancel. It was either ride this or lose my $250. Not my bike, so, no mods!
I had to call upon all my short rider skills, and make up some new ones, to handle this bike. It was taller, heavier and more cumbersome than anything I'd ever ridden. I had it for four days and had a great time. I called it Pig.
This bike was also blessed with a self-retracting sidestand -- no mounting or dismounting with the sidestand down, at all. No, I did not drop it!
Again, this isn't for everyone, but just so you know: it can be done.
---

Back to SBL FAQ.